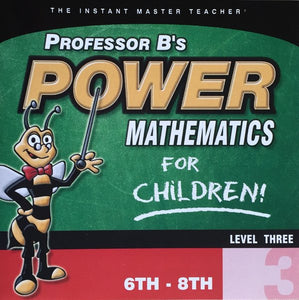 Instant Master Teacher Level 3 Powerpoint
Coming Soon!
Similar techniques and strategies as the textbook version but using a PowerPoint Presentation to deliver the lessons to the teacher and the student simultaneously.  The teacher simply reads the captions on each page and will be instantly "Master Teaching."

Includes Powerpoint digital download only. Requires Microsoft Powerpoint application.  Workbook  is separate.  Use discount code IMTWB3FREE for free workbook.  Please email us for more copies of Instant Master Teacher Workbook Level Three.  We have a special offer available.
Level Three introduces math skills for 6th through 8th graders.  This Powerpoint presents Dr. Barrett's original and effective methods for thorough understanding and mastery of multiplication/division of fractions, the decimals and metric systems, operations on decimals, transforming among fractions/decimals/percents and rounding off.  Your learners should complete Level III in 10 months or less.  
---
We Also Recommend
---